CyberPunk 2077 (PC) Serial Key Global
CyberPunk 2077 (PC) Serial Key Global
৳ 5,175.00
৳ 5,175.00
Six diverse districts depicting different walks of life in Night City.
Player character with customizable appearance, sex, and backstory.
Cybernetic enhancements dramatically expanding your options.
Living, breathing city with plenty of NPCs to interact with.
Choices with consequences that play out often in front of your eyes.
Solve the mystery of the weird chip embedded in your skull.
Three specializations to mix and match to improvise, adapt, overcome.
---
This is a digital delivery item.
---
Delivered in 1-4 Days
Description
Additional information
Description
Cyberpunk 2077 (PC) is a single-player, first-person perspective action-RPG developed by CD Projekt Red, the developer of The Witcher series. Based on a tabletop game developed by Michael Pondsmith back in the 1980s, CP2077 is steeped in the themes and aesthetics of the cyberpunk genre.
This content was copied from https://www.g2a.com/cyberpunk-2077-gogcom-key-global-i10000156543001. It is protected by copyright, all rights reserved. If you want to use it, you are obligated to leave the link to the original source.
Gameplay—Become a cyberpunk
Cyberpunk 2077 gameplay allows you to mix and match your approaches to suit your playstyle. You can go in guns blazing, or sneak around your enemies and eliminate them with your melee weapons or hacking vulnerable devices. Either way, combat is violent and satisfying.
As a story-rich adventure, CP2077 lets you carve your own position among the shakers and movers of Night City, arrange your own alliances, and find your own motivations. V is potentially a deadly combatant or a dangerously smart hacker, but there's only so far one could reach without allies. It's up to you to secure a few of your own!
Powered by REDengine 4, it shows rare technical excellence, helping you get immersed in the world and the story. You've never seen a CDPR game look so good.
Setting—Live in the city of the Future
Night City of the year 2077 exemplifies the untapped potential of humanity. Built-in the middle of nowhere, California, Night City grew to be a sprawling metropolis where people from all walks of life can ply their trade, seek (and sometimes even find) fame and fortune, or die trying.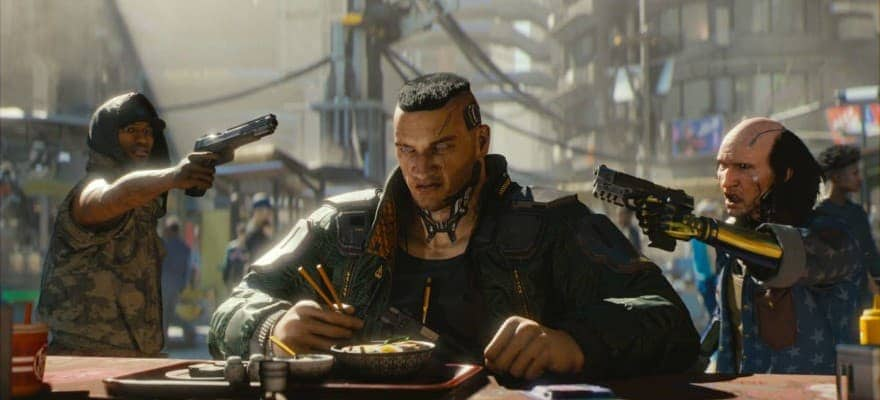 Body modifications can be seen everywhere on the street, and Psycho Squads keep an eye on those who suffer from cyber psychosis after going one augmentation too far. Trauma Teams offer paramedics able to extract you even from intensive shoot-outs, provided you can pay what they charge. Gangs run rampant in the streets, while mega corporations find new ways to find profits. You'll be hard-pressed to find a more cyberpunk game.
Do you think you're tough and smart enough to navigate the streets and the factional politics of Night City? You're fresh meat, don't get your hopes out, hotshot.
Character Creation—Play as a mercenary outlaw
In CDPR's Cyberpunk 2077 you play as V, a newcomer to Night City, who wants to find a fortune in this Californian metropolis. That's the core idea, but the game allows you to define much more than that yourself.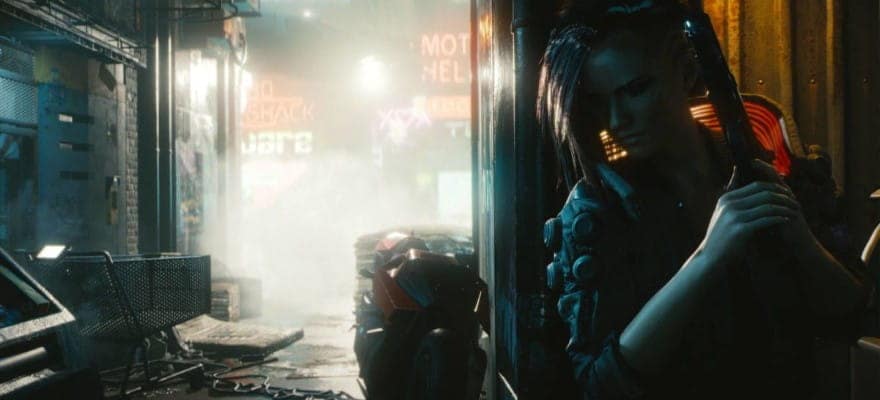 To begin with, you can pick V's backstory from a few options, which will come into play as you explore the city and interact, peacefully or not, with its denizens. Perhaps your background of life on the streets will allow you to cut through the lies of a back-alley informer? You'll even get to choose the most important life event or even the very reason you really came to the city, all of which influence the quests and content you see during your playthrough.
Cyberpunk 2077's character creation also includes robust face-sculpting tools allowing you to make sure your character (who can be male or female) looks just right. Eventually, you'll get to distribute points among your Biostats, which include "Cool", which can change the situation even more than high Luck in Fallout games.
Cast of Characters
On the streets of Night City, you'll come across (and come to cross) plenty of characters, some more deserving of cyberpunk than others. One of your closest companions is Johnny Silverhand, a rocker boy portrayed by the one and only Keanu Reeves. If you remember Johnny from the tabletop, don't worry, your obvious questions find answers in the game.
In addition to Johnny, you'll meet self-proclaimed lords of the underworld like Dexter Deshawn, or staunch allies like the human tank Jackie Welles. It's up to you whom you trust, whom you're going to double-cross, and whose betrayal you're going to let slide, just this once. Just know that there is always a bigger fish.
The open-world of Night City
If you want to travel a lot in your playthrough of Cyberpunk 2077 car rides are your best option. The city is huge, and there are some districts where you'd prefer to stay in your car unless you have weapons at hand.
There are several districts you get to visit in CP2077. There's the City Center where corporations have the strongest presence, for example, or Pacifica, where gangs have more say than anyone else and you'd better be on good terms with them. Whether you go on foot or in a car, the only time you'll ever see a loading screen after booting up the game is during fast travel. There are no seams to prevent you from immersing yourself in the world.
The release of Cyberpunk 2077
After years of waiting and expectations, Cyberpunk 2077's release date was announced on E3 2019 to the excitement of everyone in the audience and the gaming communities on the Internet. The 'breathtaking' Keanu Reeves entered the stage at E3, became an internet sensation, and introduced the teaser with the date being set for 16th April 2020, which reflected the most popular edition of the original tabletop RPG, which took place exactly in 2020.
Reception
Ever since the first trailers, Cyberpunk 2077's reception has been incredibly positive, with glowing praises from industry journalists and the community in general. The impressive sense of scale, the feeling of being in a living city of the future, and player freedom made Cyberpunk 2077 an easy and quick-hit, especially with the stalwart fans of The Witcher 3.
Additional information
| | |
| --- | --- |
| Vandor | GOG.COM |
| Validity | Life Time |