TweakMaster
৳ 3,990.00
Speed up web surfing – pages load faster!
Boost download speeds – files download more quickly
Send/Receive email without long delays
Now with Advanced Ping, TraceRoute & WhoIs
Built-in Connection Throughput Measurement
Keep your computer clock set accurately
Connection Minder helps prevent disconnections
---
This is a digital delivery item.
---
Delivered in 1-24 Hour
Description
Additional information
Description
What is TweakMASTER?

TweakMASTER has been the NUMBER ONE Internet Optimizer utility for 9 years, developed by the leading pioneers in the field. Rose City Software distributed the very first full-featured Internet Optimizer back in the late '90s with Windows 95, long before many of our would-be competitors had purchased their first PC! And we have been updating it and improving it constantly.
TweakMASTER version 3.0 is the most effective, full-featured, and easy-to-use TweakMASTER yet! Supports ALL current Windows™ versions including Windows 7/8/10 and AOL software too! No other utility can make that claim and deliver!
TweakMASTER promotes faster Internet download speeds by carefully and intelligently tweaking various 'hidden' Windows settings. It provides powerful Internet Boost for ALL types of Internet connections including dial-up, cable modem, DSL, or satellite, and especially for Wireless as well!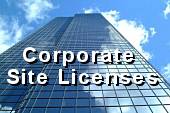 Praised by both individual users and large companies alike, TweakMASTER Pro is the best utility of its type available and has site licenses in place with Microsoft, ATT Wireless, Arizona State University, BizarNet – Satellite Internet Services, Bytemobile, Inc., Kansas Building Systems, and many other major companies. TweakMASTER PRO includes the award-winning DU Meter, which has additional site licenses in place with Intel, Nokia, SunGard Assent, ATT Wireless, Alcatel, Lucent, Raytheon, Infosys, JPMorgan Chase, Sierra Wireless, Fourelle Systems, Nortel, Reuters, Texaco, Compaq, Belgacom Mobile, Telecom Mobile Pte Ltd, Mobilkom AG (Austria), Oklahoma State Department of Human Services and many other major corporations.
Besides the indispensable DU Meter, the PRO version of TweakMASTER includes the award-winning LinkFox which is explained in more depth on a separate LinkFox page. Linfox is a true second-generation web accelerator software, which is compatible with Internet Explorer 6/7/8. Previously sold separately for $24.95, you can now get LinkFox free as part of the full suite of tools in TweakMASTER Pro.
And look at all the awards TweakMASTER Pro has won! Just what you would expect from the leaders in the field of Internet Optimization!
How The Internet Works

The Internet uses a protocol called Transmission Control Protocol (TCP) developed in the 1970s by network engineers at Stanford University and others. Basically, it breaks down large files into small packets of about 1500 bytes, each carrying the address of the sender and the recipient. The sending computer transmits a packet, waits for a signal from the recipient that acknowledges its safe arrival, and then sends the next packet.
If no receipt comes back, the sender transmits the same packet at half the speed of the previous one, and repeats the process, getting slower each time, until it succeeds.
This means that even minor glitches on the line can make a connection very sluggish. That's where TweakMASTER can help!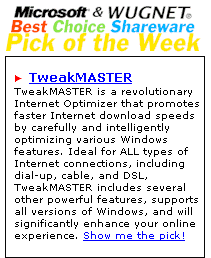 Go FASTER with TweakMASTER
TweakMASTER is easy to use and requires no special computer knowledge. No matter what speed you connect at or what other utilities you may have tried, nothing will provide a FASTER Internet connection for you than TweakMASTER… guaranteed! TweakMASTER can substantially improve your download speeds for all types of connections from dialup to DSL, Cable, and Wireless. Even AOL users will be amazed at how much more responsive their system will be!
TweakMASTER also includes a comprehensive set of tools to help optimize your connection. These include an innovative DNS Accelerator which helps websites load much faster, as well as Advanced Ping and Traceroute, WhoIs, A DNS identification client, a Connection Throughput measurement utility. At a time of increasing concerns about Internet privacy, spyware, and other vulnerabilities, TweakMASTER now provides a Network Connections Viewer for added security as well as automatic monitoring of your Windows Internet Connection Firewall. To round out the suite of tools, TweakMASTER also includes a handy PC clock synchronization utility and Connection Minder. Using the simple Wizard, TweakMASTER can easily double your download speeds and make 'Surfing the Internet a truly exhilarating experience.
TweakMASTER 3. x Features
Newest Generation Internet Optimizer to tweak Windows™ for a faster Internet experience.
TweakMASTER fully supports Windows 7/8/10 (both 32 and 64 bit) and both IE and Firefox
Improved optimization strategies and new tweaks allow for much better optimization of modern systems.
Optimize your connection in seconds using a simple Wizard – no prior knowledge needed.
New HTML Report lets you keep the history of changes for easier and smarter tweaking.
Built-in Connection Throughput Measurement utility to measure your exact download speeds.
DNS client (new feature) to investigate connectivity problems, with many types of queries for UDP and TCP mode
Advanced Ping and TraceRoute to track connection problems.
WhoIS to look up info about domain names, IP addresses, networks, etc.
Network Connections Viewer lets you see which ports are open for all current TCP connections.
All features are fully configurable for power users.
DNS Accelerator speeds up the loading of regularly visited websites.
Clock Synchronization utility updates your PC clock automatically.
ISP Keep Connected keeps your Internet connection alive.
Optimizes all types of Internet connections: dial-up, DSL, Cable, Wireless, and others.
Works with Windows 7/8/10 and AOL software as well!.
'Pro' version includes DU Meter 7. x to monitor bandwidth and display download speeds accurately.
'Pro' version includes LinkFox to great speed up web surfing. Even large graphics pages will now load instantly! This is a superb tool for web research.
Does TweakMASTER really work?
How is it possible to optimize Windows networking?
Microsoft must make sure that Windows networking works adequately in every possible scenario, out of the box. It must work with high-speed corporate gigabit networks and it must work with bad dial-up connections in Africa. Therefore all advanced settings are set to their most conservative values by default.
TweakMASTER's Wizard asks a couple of questions, analyzes your current networking environment, and then applies one of its optimization strategies. You can try several ones until you find what works best for you.
I heard TCP/IP tweaking does not work in Windows Vista or Windows 7?
Optimizing Windows networking is much more than just writing a couple of values into the registry. It is true that most tweaks from Windows 95 era do not work today. TweakMASTER knows how to handle all versions of Windows, and has specialized tweaks for Vista and Windows 7.
What if I apply the wrong settings?
TweakMASTER can always revert back to Windows defaults. It also has a backup/restore feature so you can experiment with total peace of mind.
Download TweakMASTER now, you can try it for 30 days for free!
Additional information
| | |
| --- | --- |
| Vandor | Hageltech |
| Validity | Life Time |